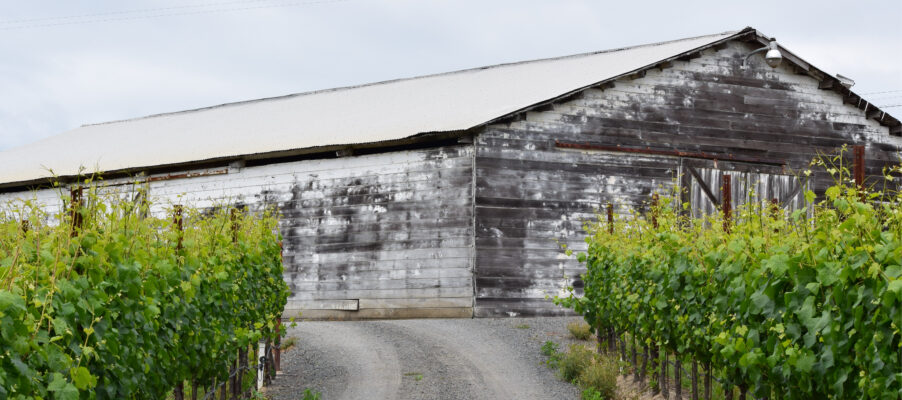 In the simplest of terms, this is our home base. Martin Ray Winery sits squarely in the geographic center of the appellation. Declared as its own AVA within Sonoma County, the Russian River Valley is defined by its cool marine influence, filtered in from the south by the Petaluma Gap. Even throughout the summer, a fog layer clings to the low lying valley regions late into the mornings, creating a temperature variation of nearly 35 degrees between the day and nighttime. Vintners in 1960's and 70's were quick to realize this valley's potential for producing excellent cool-climate fruit, and planted the area with what are now some of the most highly acclaimed Pinot Noir and Chardonnay vineyards.
Martin Ray Estate Vineyard: Our own little plot of a mere 12 acres has been planted with 6 different clones, most notably Clone 37 (also known as the Mt. Eden clone), which Martin Ray brought from France in the 1930's. Sitting just beyond the eastern border of Green Valley on a sloping hill of enviously impressive Goldridge soil, and planted to notable Dijon clones such as 943, 828, 667, and 777, we have high expectations for our young vineyard.
Laguna Ranch: Only a few miles from our winery on Frei Road, our Laguna Ranch Sauvignon Blanc has become an integral part of our Russian River Sauvignon Blanc. The inherently cool climate makes it one of the last to ripen, often weeks after the rest of our Sauvignon Blanc, but the long season helps lock in the bold tropical flavors we love so much in our wine. In addition, it has now become one of our most beloved small production vineyard designate wines, offering the perfect balance ripe fruit and bright, racy acidity.