Green Valley of the Russian River Valley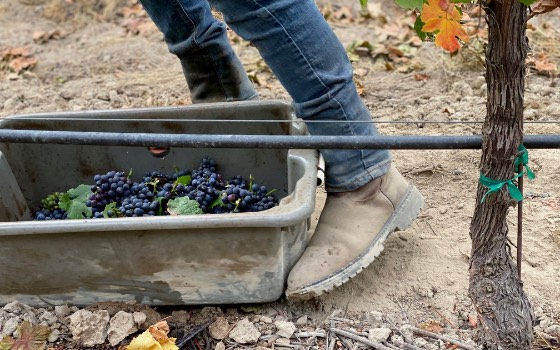 This sub-appellation of the Russian River Valley AVA has become as synonymous with outstanding Pinot Noir and Chardonnay as Stags Leap has been with Cabernet Sauvignon. This very small and highly sought after microclimate is strictly defined by its cooler than average temperatures, the heavy fog that hangs late into the day, and its rich Goldridge soils; all of which culminate to produce exceptionally structured and aromatic wines.
Mill Station Vineyard, Dutton Ranch: This vineyard is the source of our single-vineyard Chardonnay. The forty-year old vines in the heart of the Green Valley are dry-farmed, and often late to harvest in despite of the fruit's ability to retain high natural acidity, and very distinct citrus flavor.
Mrs. George Vineyard, Dutton Ranch: While primarily renowned for its superior quality of Chardonnay and Pinot Noir, Green Valley is certainly just as favorable to Sauvignon Blanc. Close to the heart of the Green Valley, located on the flats only yards away from Dutton's Home Ranch, this particularly cool climate site is ideal for accentuating the unique floral notes of the vineyard's Musque clone.
Marty's #2, Dutton Ranch: A prominent piece of both our reserve Green Valley blend as well as our Russian River Pinot Noir, Marty's Vineyard sits in the center of the valley on gently sloping, eastern facing hills comprised of the coveted Goldridge soils. Hearty Mt. Eden and 2A clones lend a strong foundation to our more delicate Green Valley pieces.
Tina Marie Vineyard: Located on the western edge of the valley, veteran owner and grower Ron Black meticulously laid out this vineyard with dense plantings, resulting in low yields and quality fruit. Our Reserve Green Valley, as well as our vineyard designate are a balance of Dijon 115 and 667 clones, which produce wines with the silky tannins and bright red fruit for which the Green Valley is famous.
Hallberg Ranch: Planted along Sonoma County's famous Goldridge, this Dry-Farmed vineyard produces intense and complex fruit. Hallberg can see diurnal shifts up to 30 degrees, and given it's location, has both nighttime fog and a cool consistent daytime breeze, ideal for growing pinot noir. Sourcing from two small blocks, Clone 828, and most notably Cruz, create both structure and suppleness to our Hallberg Pinot Noir.