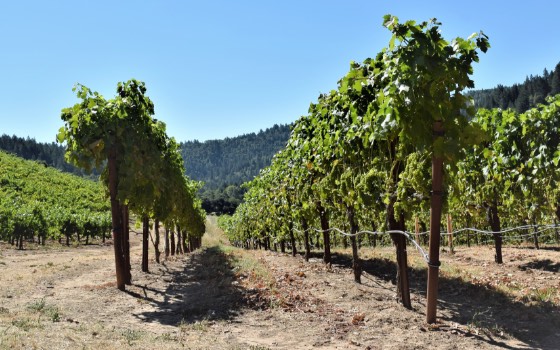 Immediately to the north of us, the Dry Creek Valley sits just beyond the reach of the marine influence allowing summer temperatures to perfectly mimic the Bordeaux region of France. Rocky soils created from the natural uplift of the underlying fault line provide superior drainage to concentrate the qualities of the favored Bordeaux and Rhone varietals. From small, family-owned plots on the hillsides of this narrow valley, we source several of the well-suited varietals, including Zinfandel, Cabernet Sauvignon, Petit Verdot and Malbec.
Forchini Vineyard: Known for their intense varietals of Cabernet Sauvignon, Petit Verdot, and Malbec, this family-owned vineyard also keeps the environment in mind. While minimizing pesticide usage and integrating goats and sheep for cover crop control, the Forchini Family produces high quality grapes from a sustainable vineyard. The clay-loam and gravel soil is kept well drained and exposed to late afternoon sun to produce optimum ripeness in their grapes, which leads to excellent aromas and flavors in our wines.
Puccioni Ranch: As one of the oldest vineyards in the area, the Puccioni Family's "Old Vine" Zinfandel has been growing in Dry Creek Valley for over one hundred years. Currently farmed by third and fourth generation Puccioni family members, the vineyard is planted on clay-based soil mixed with some shale to create rockiness. With elevations between four hundred and one thousand feet, the climate mimics cooler weather and produces superior quality grapes by implementing farming methods passed down since 1904.